Lower Mountain Fork River Trout Fishery Special Restrictions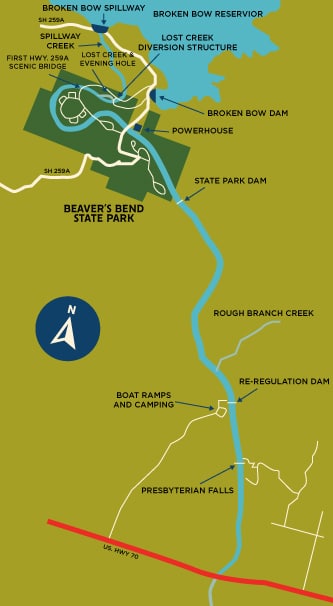 Red Zone
No bait* or barbed hooks** permitted and only one rod/reel per person
Blue Zone
No bait* or barbed hooks** permitted and only one rod/reel per person
Rainbow Trout
Red & Blue Zone daily limit: One
Red & Blue zone size limit: 25 inch minimum
Red & Blue zone combined daily limit: One
Brown Trout
Red & Blue Zone daily limit: One
Red & Blue zone size limit: 30 inch minimum
Red & Blue zone combined daily limit: One
*Bait
Soft plastic fish eggs, worms, grubs and larvae.
Any natural fish food such as bait fish, fish parts, crayfish, frogs, grubs, insects, larvae, worms and fish eggs.
Any human food substances such as cheese, corn and garlic
Any dough bait, putty or paste-type bait.
Any substance, either chemical or natural, designed to attract fish by taste or smell regardless is the substance is added in the manufacturing process or applied afterward.
**Barbless Hooks
Any hook manufactured without a barb for the purpose of keeping a fish attached to the hook or hooks having manufactured barbs that have been removed or pinched down in a manner that renders the barb ineffective in holding fish to the hook.
General Trout Regulations License Requirements:
A resident or nonresident fishing license is required of all persons who take or attempt to take fish, including trout, unless otherwise exempt.
A trout license (stamp) is no longer required because it is included in the resident or nonresident fishing license.
Method of Taking:
It is unlawful to take fish from statedesignated trout areas during trout season by any means except one rod and reel (or one pole and line).
Trout caught and placed on a stringer or otherwise held in possession cannot be released later (no culling).
All trout in possession must be kept on a stringer marked with that angler's name and customer ID number or lifetime license number. All anglers must have their own stringer. Daily & Size Limits:
Daily limit is six rainbow trout in all statedesignated trout areas except in portions of the Blue River, the Lower Illinois River and the Lower Mountain Fork River. (See maps and descriptions on pages 21 and 23.)
There is no minimum size limit for rainbow trout at any state-designated trout area except in portions of the Lower Illinois River and the Lower Mountain Fork River. (See maps and descriptions on pages 21 and 23.)
Daily limit for brown trout is six with no minimum size limit, except at the Lower Mountain Fork River where the daily limit is one; size limit: 30-inch minimum, and Lower Illinois River where the daily limit is one; size limit: 20-inch minimum, with a possession limit of two after the first day. Possession Limit: No person shall have in his possession in the field more than one daily limit of any trout species. After the first day, no person shall have more than 12 rainbow trout and 12 brown trout in his or her possession, except at the Lower Mountain Fork River and Lower Illinois River where the possession limit for brown trout is two. Nonresidents shall not have more than two days' limit of any trout species upon leaving the state. Artificial Flies and Lures Defined: Fishing tackle made by fly-tying or artificial lures made of wood, metal, glass, feathers, hair, synthetic fibers or hard plastic and barbless hooks only. The use of any substance in combination with restricted fishing tackle is prohibited