Hiking Around Beavers Bend
The surest, easiest way to witness the beauty of the land in and around Beavers Bend is to get right out in the middle of it. It's a good thing hiking and nature trails are pretty much everywhere you look.
Trails throughout the resort area range in length and skill level, and all hikers are asked to check in at the Forest Heritage Center and pick up a complete trail guide before heading out. Hiking trails are marked with white tree blazes; nature trails are marked with blue on white blazes.
Wear proper clothing, usually long sleeves are best.
Dress in layers.
Wear hiking boots or comfortable walking shoes.
Don't forget a first aid kit.
Take breaks regularly. Don't overdo it.
Drink plenty of fluids.
Be aware of your surroundings at all times.
Never hike alone.
Don't forget a map. (The Forest Heritage Center has a map of all the trails within Beavers Bend State Park.)
Don't litter. Leave nature the way you found it.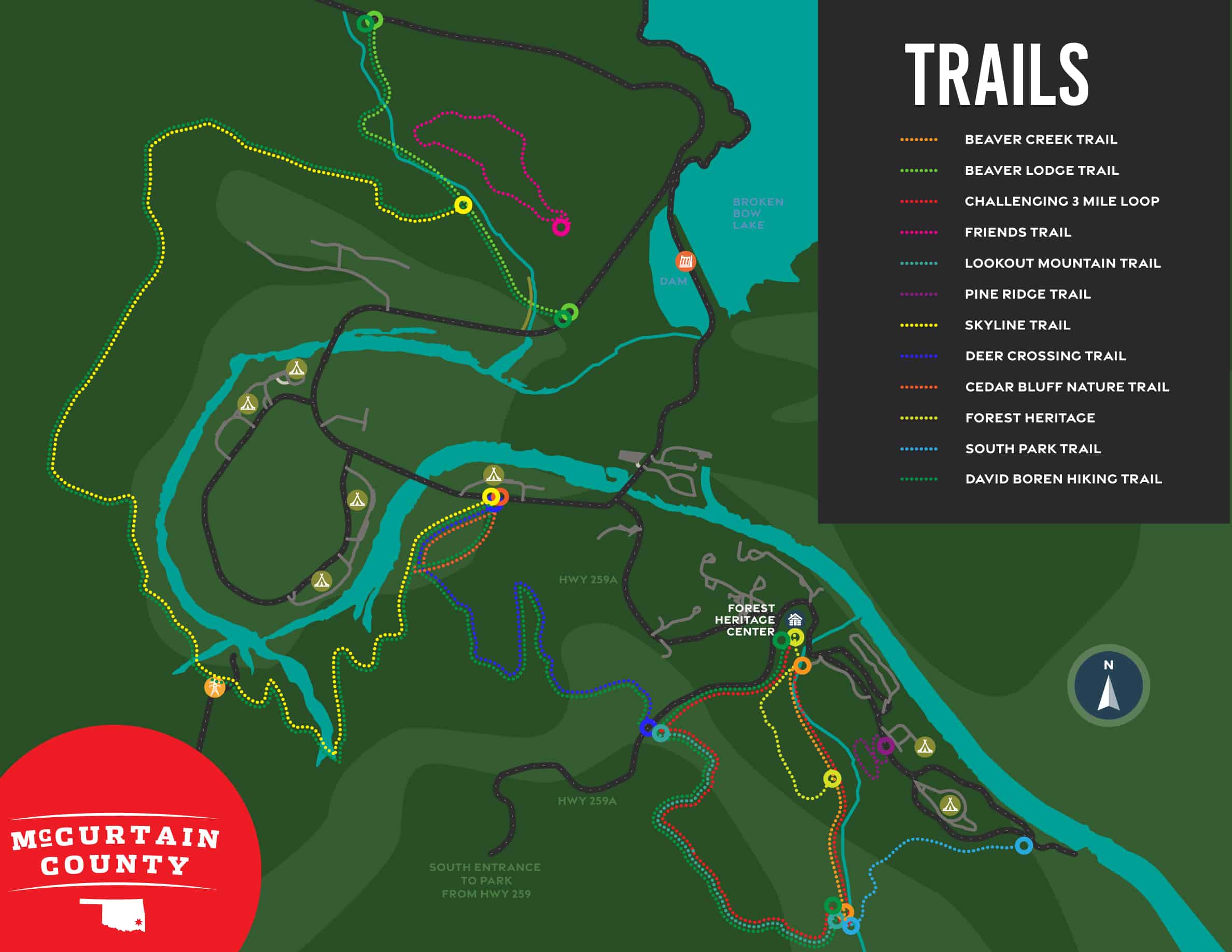 Cedar Bluff Nature Trail: 1 mile; easy to walk.
Dogwood Nature Trail: 1 mile; fairly easy to walk.
Forest Heritage Trail: 1.1 mile; fairly easy to walk but does have some climbs.
Pine Ridge Nature Trail: ¾-mile; fairly easy to walk; it has two uphill grades and two downhill grades. This trail does not loop around to its starting point.
Beaver Lodge Nature Trail: 1 mile; fairly easy to walk. This trail does not loop around to its starting point.
Pine Creek Lake, located in on the west side of the county, offers the nearby River Ridge Nature Trail and Little River Park for hiking.
The Beavers Bend Wilderness Area features a self guided nature trail that winds its way through the eastern portion of the state managed wilderness area.
The Little River National Wildlife Refuge, Ouachita National Forest, Three Rivers and Honobia Creek Wildlife Management Areas don't have any developed trails, but the areas feature many closed roads and natural conditions perfect for hikers who desire a more rugged journey. Be sure to get a land access permit before hiking on Three Rivers and Honobia creek wildlife management areas.