Glistening away at the foothills of southeast Oklahoma lies over 14,000 acres of crystal clear waters: Broken Bow Lake. Surrounded by thousands of luxury cabin stays and the outdoor adventure of Beavers Bend State Park, it's no wonder it's a favorite lake day destination for Oklahomans and Texans alike. Lucky for you, we've put together this handy guide. So the only hitch you'll have on your Broken Bow Lake weekend is the one hauling the pontoon.
Getting to Broken Bow Lake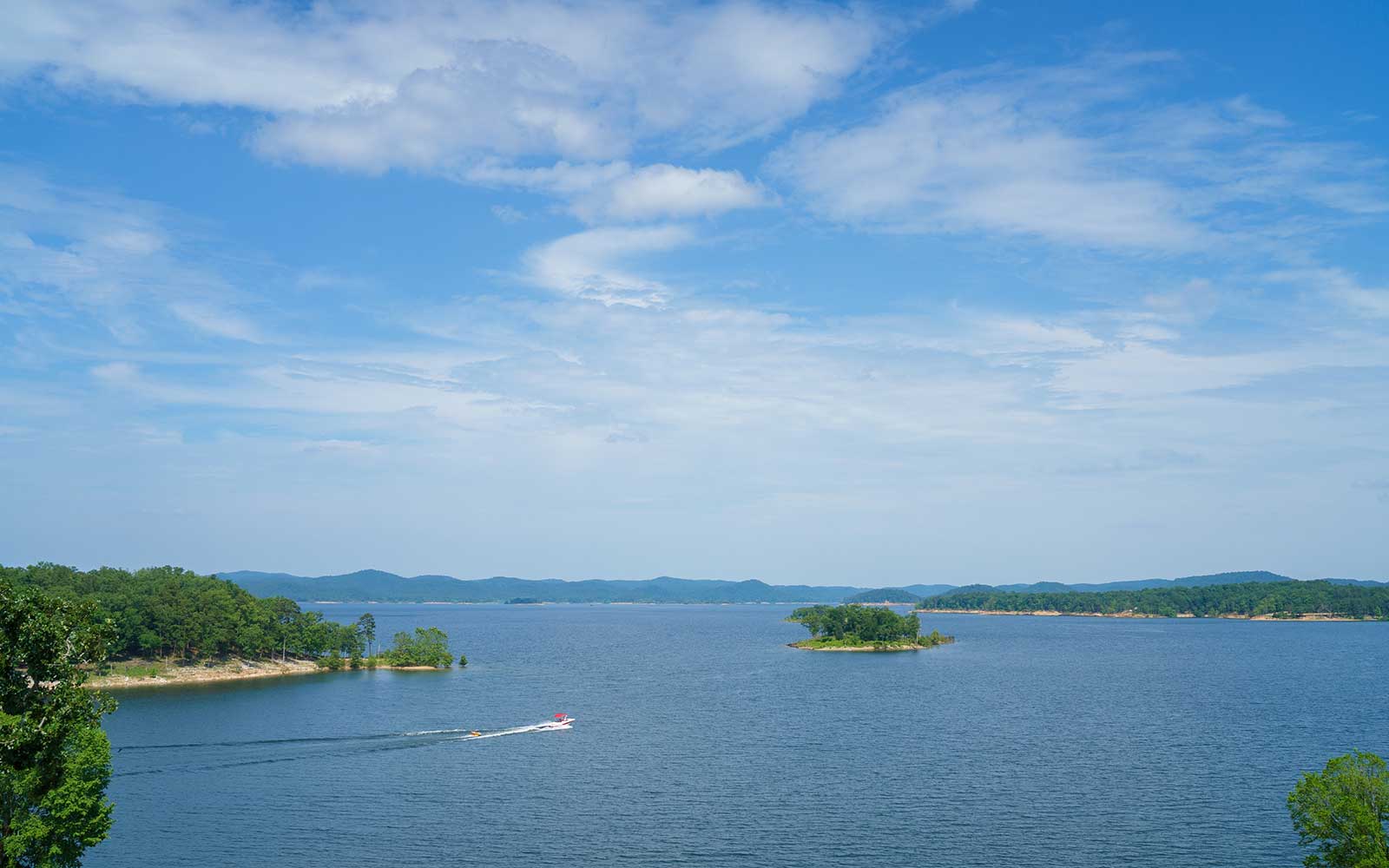 Located at the very southeast corner of Oklahoma, Broken Bow Lake is just a short drive away from anywhere in Oklahoma and for our neighbors in Texas, Arkansas, and Louisiana too. All you need's a tank of gas for a lake weekend road trip or a week-long cabin getaway with the whole family.
Distance to Broken Bow Lake from:
Shreveport, Louisiana – 2.5 hrs
Dallas, Texas – 3 hrs
Little Rock, Arkansas – 3 hrs
Tulsa, Oklahoma – 3.25 hrs
Fayetteville, Arkansas – 3.25 hrs
Oklahoma City, Oklahoma – 3.5 hrs
Memphis, Tennessee – 5 hrs
Houston, Texas – 5.5 hrs
Austin, Texas – 6 hrs
Where to Stay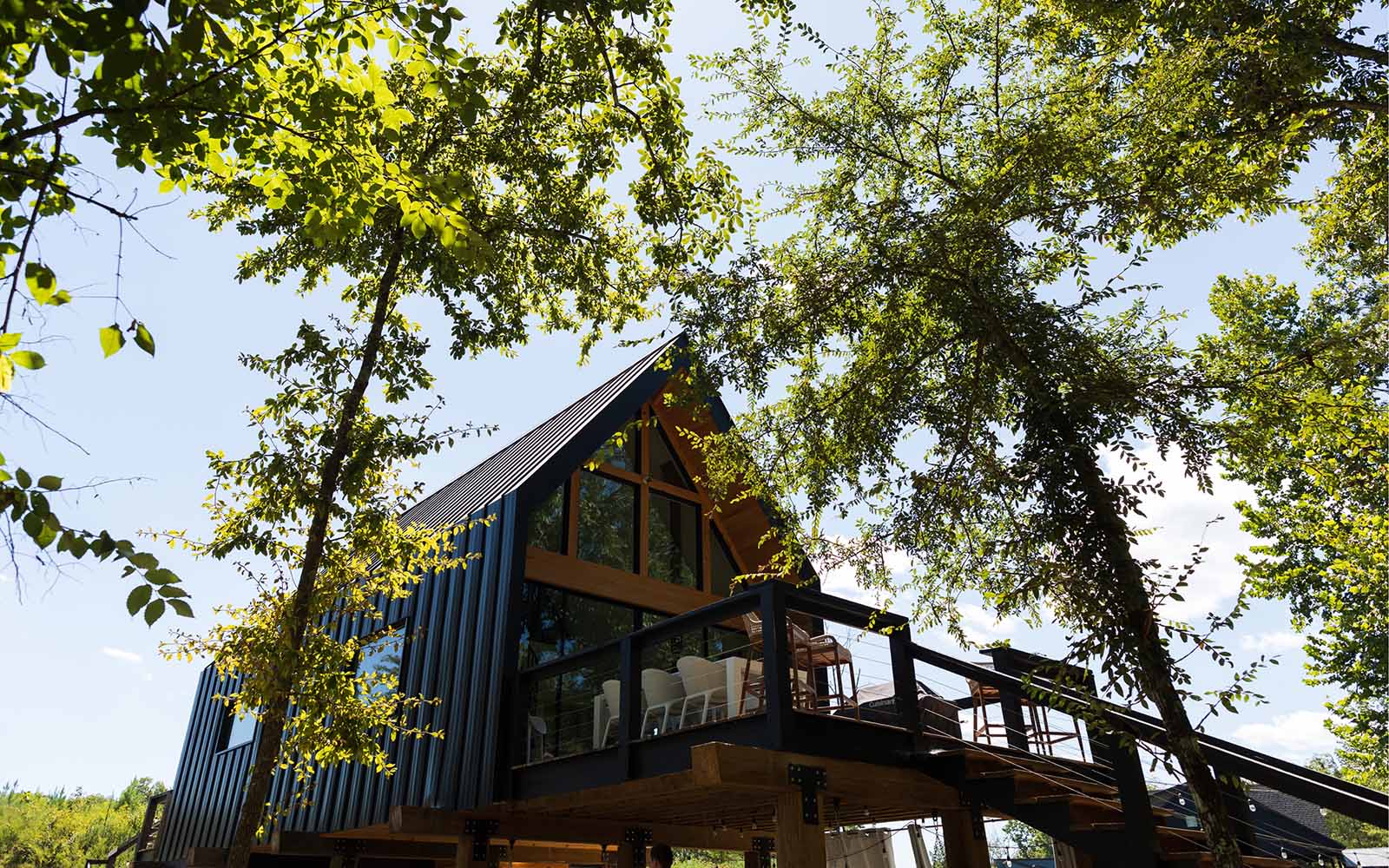 Beavers Bend Cabin Country lives up to its name. In every nook and cranny hides luxury cabin rentals for every kind of lake weekend. In fact, there are over 5,000 rustic lodges and modern stays to choose from. Plus, they come with all the cozy amenities, like full kitchens, bubbling hot tubs, and oversized porches to drink in that Beavers Bend beauty.
Most cabins are on the west side of the lake alongside Highway 259, giving you easy access to restaurants and shops in Hochatown, Broken Bow, and Idabel. Got your eye on a specific cabin? Be sure to book ahead, especially when the rays are hot in peak lake weekend season.
If you're more into roughin' it than living large, Beavers Bend State Park is also home to eight campsites for tent camping and RVs. And you'll find a handful of mom-and-pop motels, bed & breakfasts, and the newly renovated Beavers Bend Lodge too.
Where to Get Lake Day Supplies
If you're looking to fill the ice chest with local beer or you forgot the sunscreen, no sweat. You've got plenty of options to stock up near Beavers Bend State Park.
Groceries
From staples to specialty sandwiches and sides, the Beavers Bend area has tons of grocery shopping options.
Boat & Fishing Gear
Need lures? Forgot the lifejackets? Want to rent a jet ski? Pontoon out of gas? Local outfitters are happy to help make your day on the water a blast.
Lake Day Souvenirs
Nothing puts a damper on a lake day cruise like forgetting your hat. These local shops can hook you up with caps, sunglasses, shirts, koozies, and more Beavers Bend goodies.
Where to Rent a Boat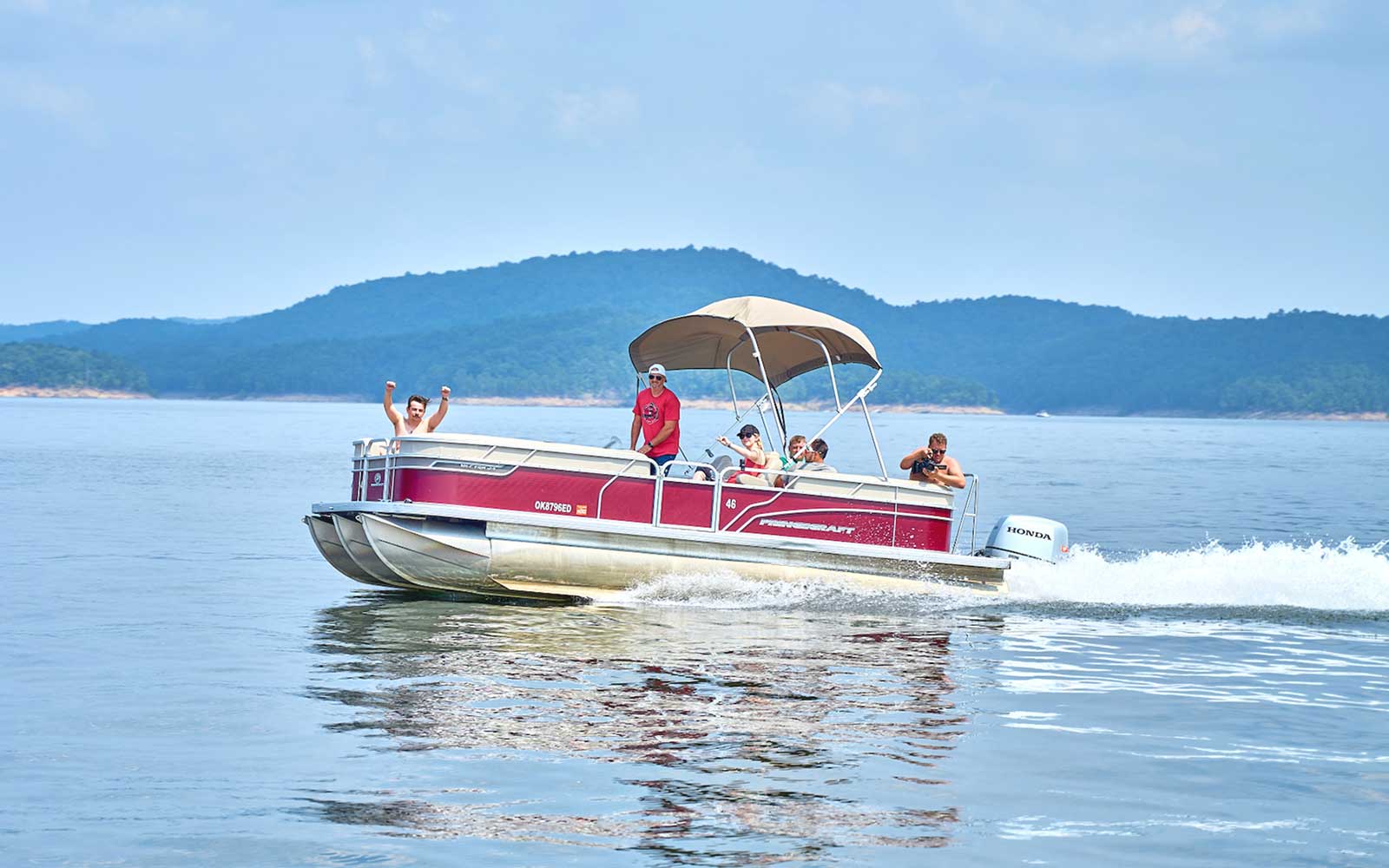 It's not a lake weekend without getting on the lake. And to do that, you're gonna need a boat. You can tow your own ride, but if you want to avoid the hassle, there are plenty of places to rent a boat at Broken Bow Lake like Beavers Bend Marina, Bandits ATV and Boat Rental, Broken Bow Water Sports, Economy Boat Rentals.
Pontoons, house boats, party barges, jet skis, speed boats. However you want to cool off, there's a boat rental with your name on it (after you reserve it, of course). And the best part? You don't have to worry about parking it at your cabin or finding a boat ramp.
What to Do on Broken Bow Lake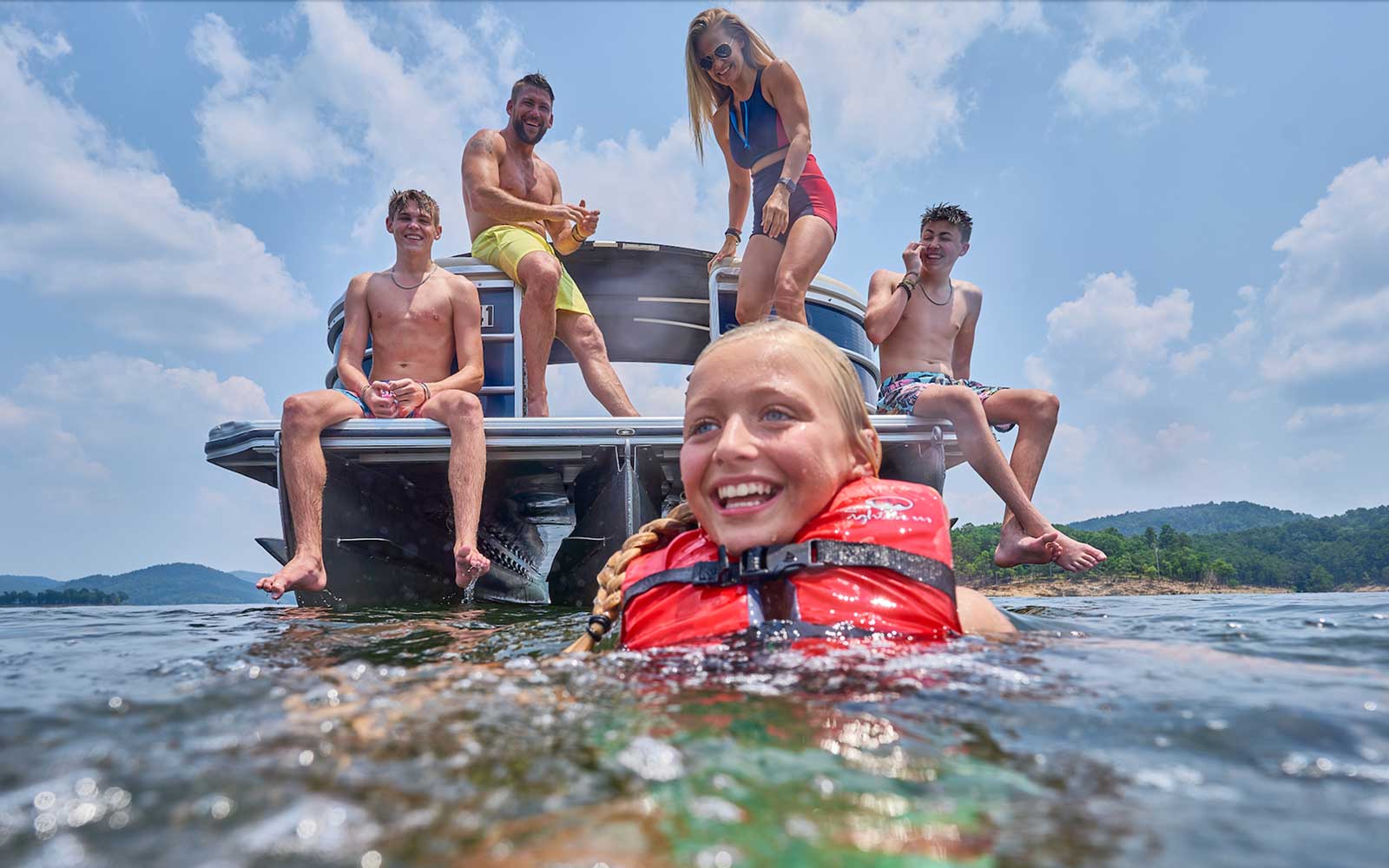 Broken Bow Lake spans over 180 miles of shoreline, prime for all kinds of watersports. You'll find several designated swim beaches around the lake, but you're also welcome to anchor down and jump right in (just make sure the coast is clear!)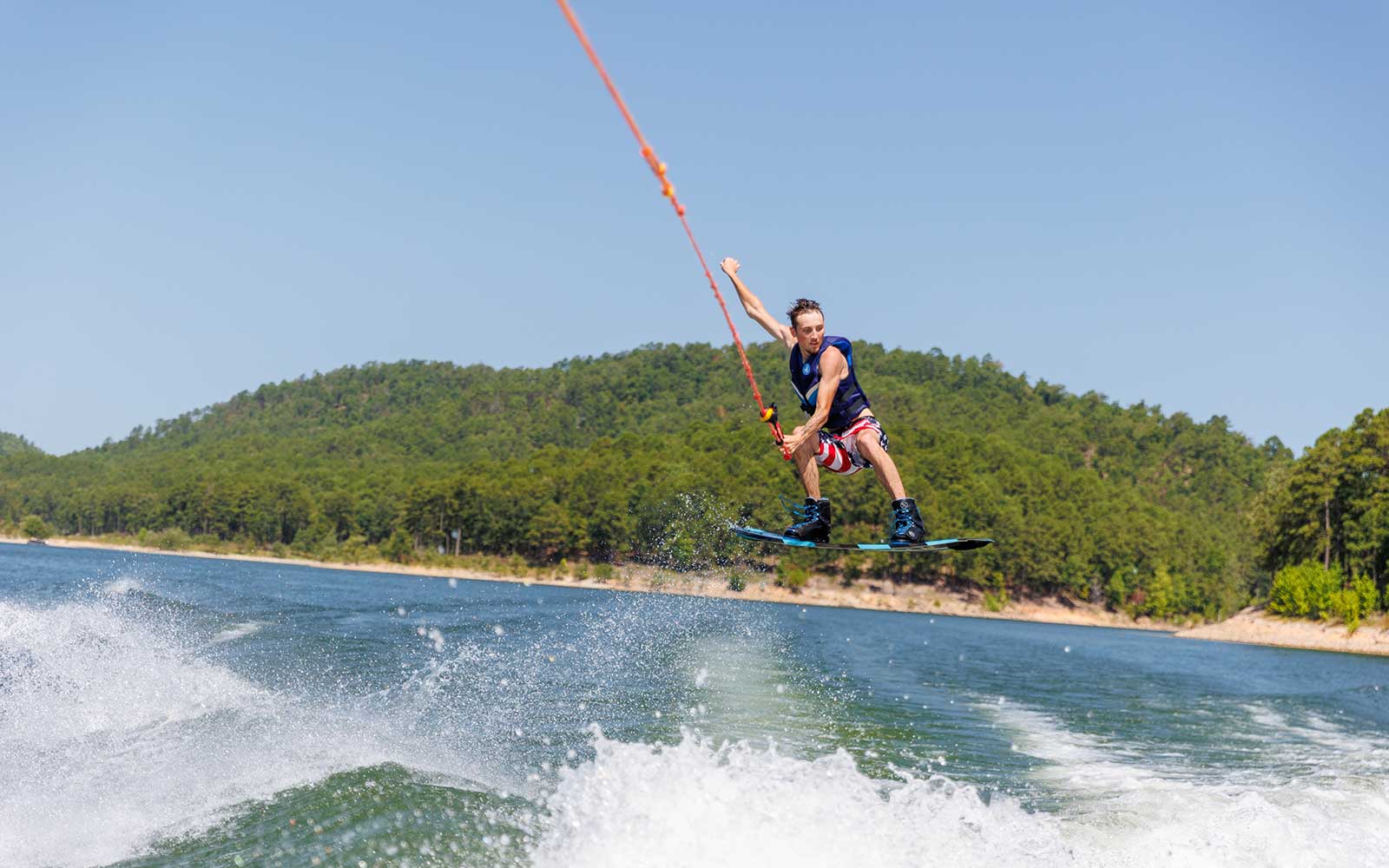 More of a thrill seeker? Tubing, wakeboarding, paddleboarding, or kayaking might be more your speed. And if you're a fisherman (or looking to try your hand), you've found your honey hole. Broken Bow Lake is one of the best bass fishing spots in the region, with endless secluded coves for a relaxing cast.
Explore Beavers Bend State Park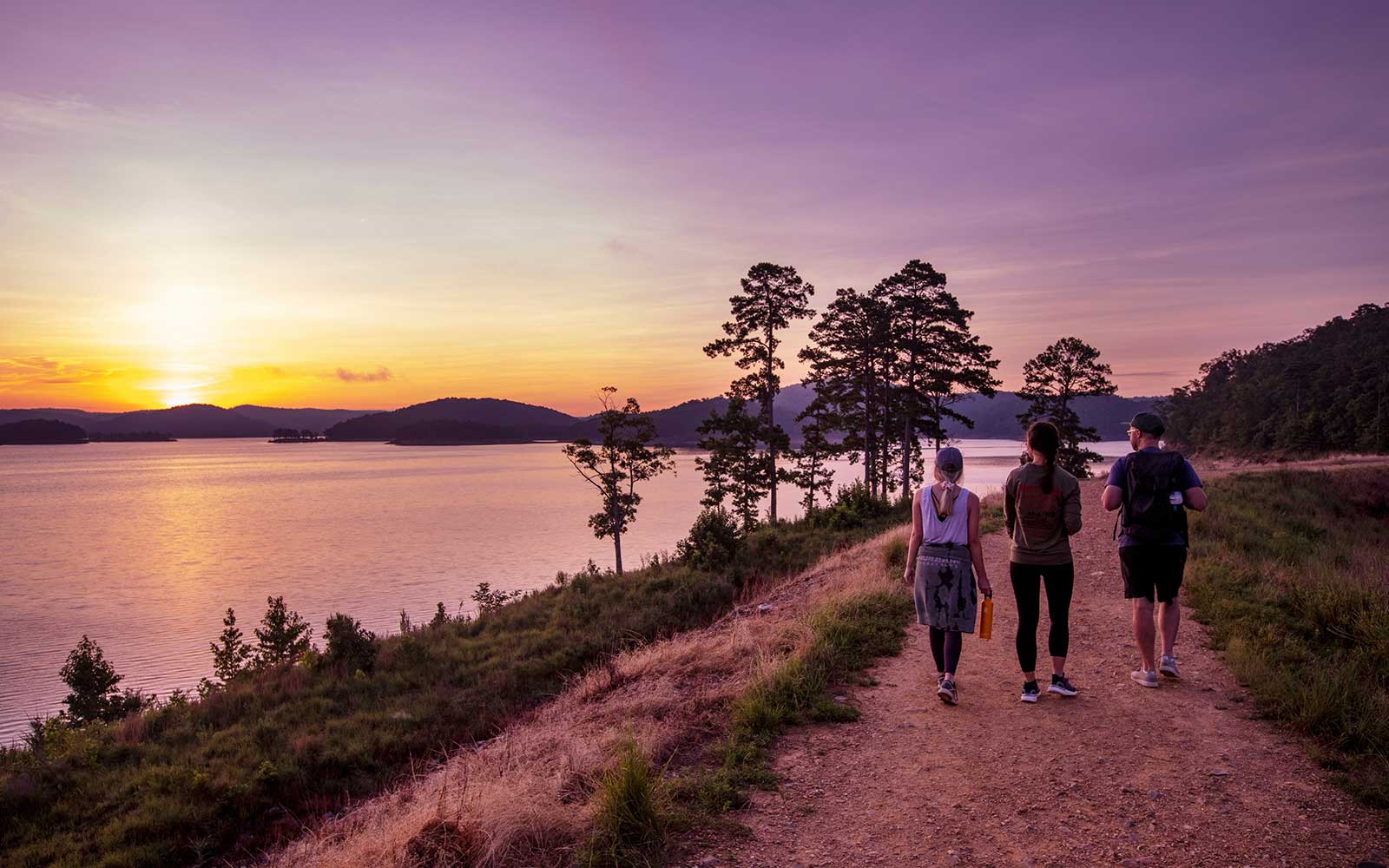 Hey, a trip to Cabin Country isn't just about the lake. When you're feeling a little waterlogged, surrounding Beavers Bend State Park is a refreshing change of pace. Lace up your hiking boots and explore breathtaking hiking trails like the Cedar Bluff and Friends Trail. Go canoeing or paddle boating on the Lower Mountain Fork River — or book a fly fishing guide for an extra memorable trip. There's also horseback riding, ziplining, and just cruising around with the windows down. And for all you golfheads, tee time at Cedar Creek Golf Course has one of the best views of Broken Bow Lake in the area.
Get Here Already!
When the sun sets, the fun doesn't have to end. Back at the cabin, you can grill up some steaks on the porch, settle in for movie night, light up the campfire for s'mores and scary stories, or hop into the hot tub if you're not pruny enough after a day on the water. But to do it all, you've gotta get here already! So book your lake weekend cabin and be sure to download the Beavers Bend Cabin Country app for even more activity ideas, food guides, maps, live weather, and more.